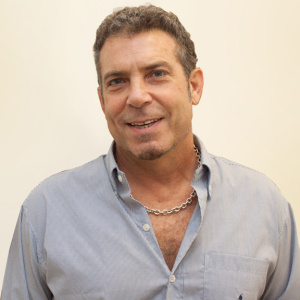 Salvatore Matteo relocated to Los Angeles from his native Brooklyn. He is an artist also known as the inventor of the Zstand®.
He has combined a wide range of interests and skills (interior design, trompe l'oeil, furniture design, faux-finishing, and set design) to create his unique, prize-winning photo-sculptures.
Starting with a compelling image, the artist cuts portions out in evocative patterns and raises them away from the surface. The image itself is thusly transformed from static record of one moment to a layered recollection of time and place more in synch with the world of dreams and memories than in the flat surfaces of photography exhibitions.
He makes this art in hopes to be a sponsor of thought. These works call us to stop and regard, to sit and absorb, while time, light, and shadow wash over them. In so doing, light transforms not only his works, but also the light by which we see our society.
The Home and Garden TV network (HGTV), produced a 10-minute broadcast on him for his extraordinary work in sculpting paper. Each piece's signed signature is accompanied by the razor blade used to make that sculpture. His work has been collected internationally, and by celebrities including Francis Ford Coppola, Larry David, Howie Mandel, Dr Dre, Marlee Maitlin, Julia Louis-Dreyfus, Robert Redford and Engelbert Humperdinck.